Real Estate Investing Show for Professional Investors
Chris Prefontaine and Using Terms with Smart Real Estate Part One
Jay Conner
Jan 05 2020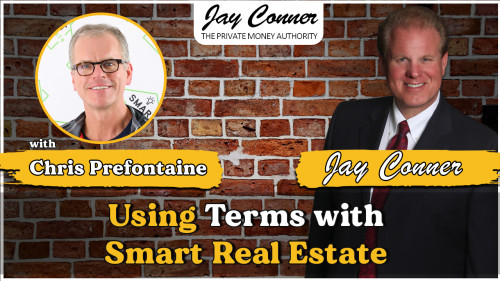 Chris Prefontaine and Using Terms with Smart Real Estate Part One
Watch on YouTube: https://youtu.be/1-lx-S5_IK8
Chris Prefontaine, uses terms to finance his properties. When he negotiates with the seller and making priniciple only payments, he is creating massive wealth.
He recently bought an office building with terms.
Chris recommends Lease Purchase for people starting. It can be done wiht various levels of equity.
95% of his deals are coming from phone calls to expired listings, FSBO, For Rent By Owner.
"Why are they selling?" Chris can solve a lot of problems if he knows what their problem is.
He does some direct mail but not a lot.
His core values drive his business. When you base all your decisions on your values, then there are no questions about a decision.
Free Webinar, Real Estate on Your Terms: https://www.jayconner.com/smartrealestate
Chris Prefontaine is a two-time best-selling author of Real Estate on Your Terms and The New Rules of Real Estate Investing. He's also the Founder and CEO of SmartRealEstateCoach.com and host of the Smart Real Estate Coach Podcast. Chris has been in real estate for over 28 years. His experience ranges from constructing new homes in the 90s to owning a Realty Executive Franchise to running his own investments (commercial and residential) and coaching clients throughout North America.
Chris has been a big advocate of constant education and participates regularly in high-end mastermind groups, as well as consults with private mentors. He runs his own buying and selling businesses with his family team, which buys 2-5 properties monthly, so they're in the trenches every single week.
They also help clients do the same thing around the country, facilitating and/or partnering in another 10-15 properties every month. Chris and his family team have done over $100 million in real estate transactions. They mentor, coach, consult, and actually partner with students around the country (by application only) to do exactly what they do.
Having been through several real estate cycles, Chris helps students navigate the constantly changing real estate waters.
Real Estate Cashflow Conference: https://www.jayconner.com/learnrealestate/
Free Webinar: http://bit.ly/jaymoneypodcast
Jay Conner is a proven real estate investment leader. Without using his own money or credit, Jay maximizes creative methods to buy and sell properties with profits averaging $64,000 per deal.
What is Real Estate Investing? Live Cashflow Conference
The Conner Marketing Group Inc.
P.O. Box 1276, Morehead City, NC USA 28557
P 252-808-2927
F 252-240-2504
Channel
https://www.youtube.com/channel/UCZfl6O7pRhyX5R-rRuSnK6w
https://www.youtube.com/c/RealEstateInvestingWithJayConner
RSS Feed
http://realestateinvestingdeals.mypodcastworld.com/rss2.xml
Google Play
https://play.google.com/music/listen#/ps/Ihrzsai7jo7awj2e7nhhwfsv47y
iTunes:
https://itunes.apple.com/ca/podcast/real-estate-investing-minus-bank-flipping-houses-foreclosure/id1377723034
Watch on ROKU:
https://my.roku.com/add/realestateinvesting
Watch on Amazon Prime:
https://www.amazon.com/How-Locate-Real-Estate-Deals/dp/B07M9WNZR6/ref=sr_1_3
About Jay Conner
Channel
https://www.youtube.com/channel/UCZfl6O7pRhyX5R-rRuSnK6w

https://www.youtube.com/c/RealEstateInvestingWithJayConner



RSS Feed

http://realestateinvestingdeals.mypodcastworld.com/rss2.xml



Google Play

https://play.google.com/music/listen#/ps/Ihrzsai7jo7awj2e7nhhwfsv47y



iTunes:

https://itunes.apple.com/ca/podcast/real-estate-investing-minus-bank-flipping-houses-foreclosure/id1377723034




Real estate investing with the pros
Click here to see the full author's profile
Recent Episodes
Update on Jay's Latest Real Estate Deal
Jeremy Knauff - His Inspiring Story of Surviving A Health Crisis
Step By Step Guide to $89,000 Deal With Jay Conner
Real Estate Investing with Jay Conner 2 PM
Student Successes! - Real Estate Investing with Jay Conner 3PM ET
Chad McCall on Finding the Deals! - Real Estate Investing with Jay Conner 2PM ET
Cory Boatright on Real Estate Investing Minus the Bank
The Anti-Financial Apocalypse
Fred Rewey on Real Estate Investing Minus the Bank
Brad Smotherman and 550 deals