Real Estate Investing Show for Professional Investors
Jim Zaspel on Real Estate Investing Minus the Bank
Jay Conner
Dec 02 2020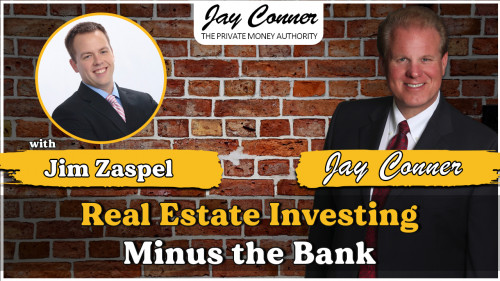 Jay Conner has been investing in Real Estate for over 15 years. He typically makes 2 deals a month. He has bought and sold over 400 homes.
He had an 800 credit score and the bank closed his LOC. He needed to find a new source of funding. In the past eight years, Jay has never missed a deal because of funding.
He has developed a strong network of Private Money suppliers.
Chaffee-Thanh Nguyen started investing in Real Estate a decade ago. He dramatically changes and impacts the lives of thousands of people around the world as an Executive Success and Event coach with the likes of Powerteam International and Marshall Sylver's Mind Power Inc. Chaffee also teaches at his own events.
DISCLAIMER: Jay Conner is not a financial advisor, real estate broker, licensed mortgage broker, certified financial planner, licensed attorney nor a certified public accountant, therefore consult with a professional prior to making any real estate investing.
Free Training
http://jayconner.ontraport.com/t?orid=46271&opid=14
Join Jay's Private Money Academy
Four Week Free Trial:
https://redirect.viperseotools.com/r/iframe?key=3GKJED5Er6Sq
#RealEstateInvesting #RealEstate #RealEstateForBeginners #PrivateMoney #FlippingHouses #Probate #AntFarm #JayConner
Real Estate Cashflow Conference: https://www.jayconner.com/learnrealestate/
Free Webinar: http://bit.ly/jaymoneypodcast
Jay Conner is a proven real estate investment leader. Without using his own money or credit, Jay maximizes creative methods to buy and sell properties with profits averaging $64,000 per deal.
What is Real Estate Investing? Live Cashflow Conference
The Conner Marketing Group Inc.
P.O. Box 1276, Morehead City, NC USA 28557
P 252-808-2927
F 252-240-2504
Channel
https://www.youtube.com/channel/UCZfl6O7pRhyX5R-rRuSnK6w
https://www.youtube.com/c/RealEstateInvestingWithJayConner
RSS Feed
http://realestateinvestingdeals.mypodcastworld.com/rss2.xml
Google Play
https://play.google.com/music/listen#/ps/Ihrzsai7jo7awj2e7nhhwfsv47y
iTunes:
https://itunes.apple.com/ca/podcast/real-estate-investing-minus-bank-flipping-houses-foreclosure/id1377723034
Watch on ROKU:
https://my.roku.com/add/realestateinvesting
Watch on Amazon Prime:
https://www.amazon.com/How-Locate-Real-Estate-Deals/dp/B07M9WNZR6/ref=sr_1_3
About Jay Conner
Channel
https://www.youtube.com/channel/UCZfl6O7pRhyX5R-rRuSnK6w

https://www.youtube.com/c/RealEstateInvestingWithJayConner



RSS Feed

http://realestateinvestingdeals.mypodcastworld.com/rss2.xml



Google Play

https://play.google.com/music/listen#/ps/Ihrzsai7jo7awj2e7nhhwfsv47y



iTunes:

https://itunes.apple.com/ca/podcast/real-estate-investing-minus-bank-flipping-houses-foreclosure/id1377723034




Real estate investing with the pros
Click here to see the full author's profile
Recent Episodes
Update on Jay's Latest Real Estate Deal
Jeremy Knauff - His Inspiring Story of Surviving A Health Crisis
Step By Step Guide to $89,000 Deal With Jay Conner
Real Estate Investing with Jay Conner 2 PM
Student Successes! - Real Estate Investing with Jay Conner 3PM ET
Chad McCall on Finding the Deals! - Real Estate Investing with Jay Conner 2PM ET
Cory Boatright on Real Estate Investing Minus the Bank
The Anti-Financial Apocalypse
Fred Rewey on Real Estate Investing Minus the Bank
Brad Smotherman and 550 deals