Real Estate Investing Show for Professional Investors
Marcus Crigler on Improving Businesses and Profitability
Jay Conner
Dec 02 2020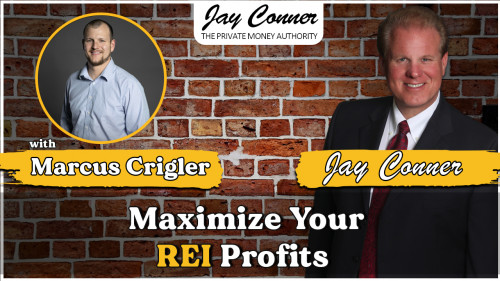 Marcus Crigler joins this episode of Real Estate investing with Jay Conner.
After developing relationships with some of the biggest leaders in the United States in real estate investing, Marcus began to notice something that was rather problematic. It was a trend in many of the real estate investment portfolios. And that was accounting and taxes.
Basically, this is being approached reactively instead of proactively. So Marcus made it his mission in the firm where he's at; Duckett ladd
He used his firm's extensive experience in real estate as the platform. Marcus and his partners specialize in working directly with real estate investors. The team has developed a very, very strategic approach to increasing cash flow; reducing tax liability for their clients. And that's representing over $500 million in assets.
They've got a very partner-focused approached to help their real estate investing clients make quicker, more accurate financial decisions. So the business owners, CEOs, what have you, can spend their time doing what they're most passionate about.
Real Estate Cashflow Conference:
https://www.jayconner.com/learnrealestate/
Free Webinar:
Real Estate Cashflow Conference: https://www.jayconner.com/learnrealestate/
Free Webinar: http://bit.ly/jaymoneypodcast
Jay Conner is a proven real estate investment leader. Without using his own money or credit, Jay maximizes creative methods to buy and sell properties with profits averaging $64,000 per deal.
What is Real Estate Investing? Live Cashflow Conference
The Conner Marketing Group Inc.
P.O. Box 1276, Morehead City, NC USA 28557
P 252-808-2927
F 252-240-2504
Channel
https://www.youtube.com/channel/UCZfl6O7pRhyX5R-rRuSnK6w
https://www.youtube.com/c/RealEstateInvestingWithJayConner
RSS Feed
http://realestateinvestingdeals.mypodcastworld.com/rss2.xml
Google Play
https://play.google.com/music/listen#/ps/Ihrzsai7jo7awj2e7nhhwfsv47y
iTunes:
https://itunes.apple.com/ca/podcast/real-estate-investing-minus-bank-flipping-houses-foreclosure/id1377723034
Watch on ROKU:
https://my.roku.com/add/realestateinvesting
Watch on Amazon Prime:
https://www.amazon.com/How-Locate-Real-Estate-Deals/dp/B07M9WNZR6/ref=sr_1_3
About Jay Conner
Channel
https://www.youtube.com/channel/UCZfl6O7pRhyX5R-rRuSnK6w

https://www.youtube.com/c/RealEstateInvestingWithJayConner



RSS Feed

http://realestateinvestingdeals.mypodcastworld.com/rss2.xml



Google Play

https://play.google.com/music/listen#/ps/Ihrzsai7jo7awj2e7nhhwfsv47y



iTunes:

https://itunes.apple.com/ca/podcast/real-estate-investing-minus-bank-flipping-houses-foreclosure/id1377723034




Real estate investing with the pros
Click here to see the full author's profile
Recent Episodes
Update on Jay's Latest Real Estate Deal
Jeremy Knauff - His Inspiring Story of Surviving A Health Crisis
Step By Step Guide to $89,000 Deal With Jay Conner
Real Estate Investing with Jay Conner 2 PM
Student Successes! - Real Estate Investing with Jay Conner 3PM ET
Chad McCall on Finding the Deals! - Real Estate Investing with Jay Conner 2PM ET
Cory Boatright on Real Estate Investing Minus the Bank
The Anti-Financial Apocalypse
Fred Rewey on Real Estate Investing Minus the Bank
Brad Smotherman and 550 deals