Real Estate Investing Show for Professional Investors
Student Successes! - Real Estate Investing with Jay Conner 3PM ET
Jay Conner
Dec 15 2020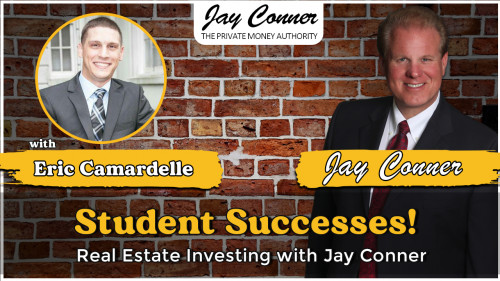 Jay Conner is joined today by a young couple. They have only been working with Jay's team for only 3 weeks and they have already raised $400K in private money lined up, ready to go and they are already making deals. Their names are Eric and Erica Camardelle.
Eric, also known as Banjo, is a former United States Marine and started his investment experience by turning his first house into a rental and from there, his love for real estate continued to grow.
His wife, Erica, is a former school teacher and has a master's degree in Educational Leadership. They are doing the business of real estate together.
In today's show, we are going to learn what the couple has been implementing for them to experience success in such a short period of time.
" I will utilize the people that God has put around in my life and follow their instructions until I reached my goal. The key is following instructions, taking actions." - Eric Camardelle.
If you want to learn how to get funding for your deals using private money, get on over www.JayConner.com/trial for 30 days of free access to Private Money Academy.
Real Estate Cashflow Conference: https://www.jayconner.com/learnrealestate/
Free Webinar: http://bit.ly/jaymoneypodcast
Jay Conner is a proven real estate investment leader. Without using his own money or credit, Jay maximizes creative methods to buy and sell properties with profits averaging $64,000 per deal.
What is Real Estate Investing? Live Cashflow Conference
The Conner Marketing Group Inc.
P.O. Box 1276, Morehead City, NC USA 28557
P 252-808-2927
F 252-240-2504
Channel
https://www.youtube.com/channel/UCZfl6O7pRhyX5R-rRuSnK6w
https://www.youtube.com/c/RealEstateInvestingWithJayConner
RSS Feed
http://realestateinvestingdeals.mypodcastworld.com/rss2.xml
Google Play
https://play.google.com/music/listen#/ps/Ihrzsai7jo7awj2e7nhhwfsv47y
iTunes:
https://itunes.apple.com/ca/podcast/real-estate-investing-minus-bank-flipping-houses-foreclosure/id1377723034
Watch on ROKU:
https://my.roku.com/add/realestateinvesting
Watch on Amazon Prime:
https://www.amazon.com/How-Locate-Real-Estate-Deals/dp/B07M9WNZR6/ref=sr_1_3
About Jay Conner
Channel
https://www.youtube.com/channel/UCZfl6O7pRhyX5R-rRuSnK6w

https://www.youtube.com/c/RealEstateInvestingWithJayConner



RSS Feed

http://realestateinvestingdeals.mypodcastworld.com/rss2.xml



Google Play

https://play.google.com/music/listen#/ps/Ihrzsai7jo7awj2e7nhhwfsv47y



iTunes:

https://itunes.apple.com/ca/podcast/real-estate-investing-minus-bank-flipping-houses-foreclosure/id1377723034




Real estate investing with the pros
Click here to see the full author's profile
Recent Episodes
The Reality of Real Estate Investing with Dave Seymour & Jay Conner, The Private Money Authority
Improving Business Relationships Through CRM with Danny Johnson & Jay Conner
Top 3 Aha Moments in Real Estate with Jay Conner & Chaffee-Thanh Nguyen
Become A 7-Figure Real Estate Investor with Nick Perry and Jay Conner, The Private Money Authority
Henry Washington, Helping Real Estate Investors Achieve Financial Freedom with Jay Conner
Social Media Marketing for Your Real Estate Business with Jay Conner & Josh Culler
Discover the BRRRR Method with Corey Reyment and Jay Conner, The Private Money Authority
Casey Ames on Real Estate Investing With Jay Conner, The Private Money Authority
Ascend Your Success In Real Estate with Alex Pardo & Jay Conner, The Private Money Authority
Tax-Defaulted Properties with Jay Drexel & Jay Conner, The Private Money Authority