Real Estate Investing Show for Professional Investors
Real Estate Investing with Jay Conner 2 PM
Jay Conner
Dec 15 2020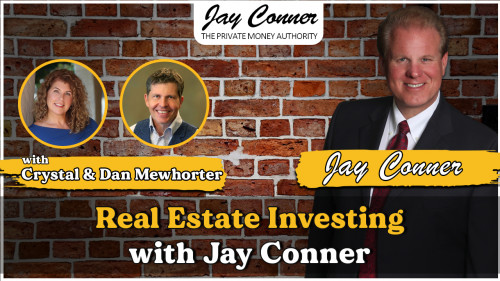 Once again, in today's episode, Jay Conner is joined by a power couple in real estate investing, Crystal and Dan Mewhorter.
Crystal and Dan are back once more to talk about their recent deal. Just like their previous deals, this one is funded without using any of their own money. What's more exciting about this is the profit of over $100,000 just on this one deal!
The couple is going to talk about how they found the deal, what kind of marketing they used to find the deal, the purchase price, estimated profit, and everything that you need to learn to be successful in Real Estate Investing.
If you want to learn how to get funding for your deals using private money, get on over www.JayConner.com/trial for 30 days of free access to Private Money Academy.
Real Estate Cashflow Conference: https://www.jayconner.com/learnrealestate/
Free Webinar: http://bit.ly/jaymoneypodcast
Jay Conner is a proven real estate investment leader. Without using his own money or credit, Jay maximizes creative methods to buy and sell properties with profits averaging $64,000 per deal.
What is Real Estate Investing? Live Cashflow Conference
The Conner Marketing Group Inc.
P.O. Box 1276, Morehead City, NC USA 28557
P 252-808-2927
F 252-240-2504
Channel
https://www.youtube.com/channel/UCZfl6O7pRhyX5R-rRuSnK6w
https://www.youtube.com/c/RealEstateInvestingWithJayConner
RSS Feed
http://realestateinvestingdeals.mypodcastworld.com/rss2.xml
Google Play
https://play.google.com/music/listen#/ps/Ihrzsai7jo7awj2e7nhhwfsv47y
iTunes:
https://itunes.apple.com/ca/podcast/real-estate-investing-minus-bank-flipping-houses-foreclosure/id1377723034
Watch on ROKU:
https://my.roku.com/add/realestateinvesting
Watch on Amazon Prime:
https://www.amazon.com/How-Locate-Real-Estate-Deals/dp/B07M9WNZR6/ref=sr_1_3
About Jay Conner
Channel
https://www.youtube.com/channel/UCZfl6O7pRhyX5R-rRuSnK6w

https://www.youtube.com/c/RealEstateInvestingWithJayConner



RSS Feed

http://realestateinvestingdeals.mypodcastworld.com/rss2.xml



Google Play

https://play.google.com/music/listen#/ps/Ihrzsai7jo7awj2e7nhhwfsv47y



iTunes:

https://itunes.apple.com/ca/podcast/real-estate-investing-minus-bank-flipping-houses-foreclosure/id1377723034




Real estate investing with the pros
Click here to see the full author's profile
Recent Episodes
100+ deals plus 40+ rentals - Get Inspired with JP Kilduff - Real Estate Investing With Jay Conner
Brad Smotherman and 550 deals
Era of Foreclosures: What Real Estate Investors Should Be Focusing On
Mitch Stephen's 1000 Doors, Real Estate Investing With Jay Conner, The Private Money Authority
Why It's Best To Sell Your Parent's House When They Are Ready To Transfer In Assisted Living
Mom's House Certified Buyers vs. Realtors
Own A Mobile Home Park Now! with Jefferson Lilly & Jay Conner, the Private Money Authority
Finding Deals In The Senior Living World Of Real Estate
Senior Living: A Potential Market In Real Estate? | Jay Conner & Phillip Vincent
Why Choose Senior Living As A Market For Real Estate | Jay Conner with Phillip Vincent