Real Estate Investing Show for Professional Investors
Jeremy Knauff - His Inspiring Story of Surviving A Health Crisis
Jay Conner
Dec 20 2020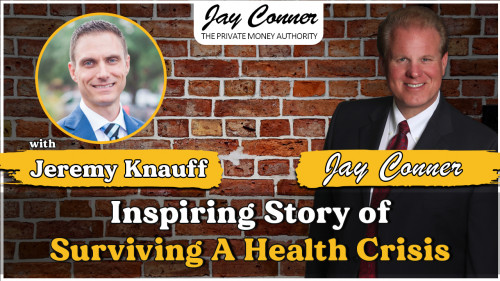 If you are interested in hearing and learning the most inspiring story that Jay Conner heard this year, stay tuned and watch this video.
Jay is in the Mastermind group with a gentleman that is phenomenal. His special guest today has experienced a health crisis and survive it.
In today's episode, they are going to dive deep into the inspiring story of Jeremy Knauff.
Jeremy Knauff has become successful not because of brilliance, charm, or a superpower, but rather because he's always learning and refuses to give up. He is a speaker, author, and founder of the digital marketing agency Spartan Media.
He is an entrepreneur, digital marketer, author, proud father, husband, and a US Marine Corps veteran. Today, he runs Spartan Media, a digital marketing agency where they provide web design, SEO, social media, and PPC marketing services.
" A lot of the people I work with come to me because they have a website but they aren't getting enough new business out of it. Other people come to me because they're losing business to competitors, or because they don't think their website presents their company to potential customers very well, or even because they're starting a company from scratch and they don't want to screw it up and waste a ton of money. If that describes you or sounds like anyone you know, let's connect." - Jeremy Knauff - https://www.linkedin.com/in/jeremyknauff
If you want to learn how to get funding for your deals using private money, get on over www.JayConner.com/trial for 30 days of free access to Private Money Academy.
Real Estate Cashflow Conference: https://www.jayconner.com/learnrealestate/
Free Webinar: http://bit.ly/jaymoneypodcast
Jay Conner is a proven real estate investment leader. Without using his own money or credit, Jay maximizes creative methods to buy and sell properties with profits averaging $64,000 per deal.
What is Real Estate Investing? Live Cashflow Conference
The Conner Marketing Group Inc.
P.O. Box 1276, Morehead City, NC USA 28557
P 252-808-2927
F 252-240-2504
Channel
https://www.youtube.com/channel/UCZfl6O7pRhyX5R-rRuSnK6w
https://www.youtube.com/c/RealEstateInvestingWithJayConner
RSS Feed
http://realestateinvestingdeals.mypodcastworld.com/rss2.xml
Google Play
https://play.google.com/music/listen#/ps/Ihrzsai7jo7awj2e7nhhwfsv47y
iTunes:
https://itunes.apple.com/ca/podcast/real-estate-investing-minus-bank-flipping-houses-foreclosure/id1377723034
Watch on ROKU:
https://my.roku.com/add/realestateinvesting
Watch on Amazon Prime:
https://www.amazon.com/How-Locate-Real-Estate-Deals/dp/B07M9WNZR6/ref=sr_1_3
About Jay Conner
Channel
https://www.youtube.com/channel/UCZfl6O7pRhyX5R-rRuSnK6w

https://www.youtube.com/c/RealEstateInvestingWithJayConner



RSS Feed

http://realestateinvestingdeals.mypodcastworld.com/rss2.xml



Google Play

https://play.google.com/music/listen#/ps/Ihrzsai7jo7awj2e7nhhwfsv47y



iTunes:

https://itunes.apple.com/ca/podcast/real-estate-investing-minus-bank-flipping-houses-foreclosure/id1377723034




Real estate investing with the pros
Click here to see the full author's profile
Recent Episodes
The Reality of Real Estate Investing with Dave Seymour & Jay Conner, The Private Money Authority
Improving Business Relationships Through CRM with Danny Johnson & Jay Conner
Top 3 Aha Moments in Real Estate with Jay Conner & Chaffee-Thanh Nguyen
Become A 7-Figure Real Estate Investor with Nick Perry and Jay Conner, The Private Money Authority
Henry Washington, Helping Real Estate Investors Achieve Financial Freedom with Jay Conner
Social Media Marketing for Your Real Estate Business with Jay Conner & Josh Culler
Discover the BRRRR Method with Corey Reyment and Jay Conner, The Private Money Authority
Casey Ames on Real Estate Investing With Jay Conner, The Private Money Authority
Ascend Your Success In Real Estate with Alex Pardo & Jay Conner, The Private Money Authority
Tax-Defaulted Properties with Jay Drexel & Jay Conner, The Private Money Authority