Real Estate Investing Show for Professional Investors
What is a Self-Directed IRA? - Jay Conner & John Dwyer
Jay Conner
Apr 26 2021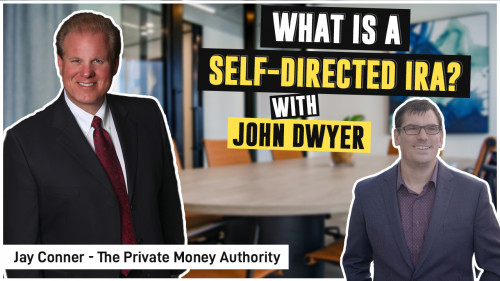 One of the most important investing tools that Jay has known for years is this thing called Self-Directed IRA.
What is a Self-Directed IRA? How do you take advantage and use this in your real estate business?
Learn the answers to these questions now!
Click on this link to watch the complete video: https://youtu.be/2lSf2LjQhxQ -
" How Wealth Works In Real Estate with John Dwyer & Jay Conner"
Let's talk about money, investments, and wealth together with Jay Conner and his special guest John Dwyer.
John Dwyer is an eight-time recipient of Ohio National's Inner Circle (top 1% of U.S. financial representatives).
A five-time qualifier, and a four-time recipient of the Executive Counsel of Honor, and was elected by his peers to serve as a current member of the Ohio National Field Advisory Board.
John also qualified for the 2017 GAMA Silver International Management Award.
Currently serves on the Field Advisory Board of Ohio National.
Was elected "40 Under 40" Prairie Business Magazine in 2015, and is a Master Mentor of both Circle of Wealth and The Breakaway League.
As the President and CEO of Solid Rock Financial Group, John leads the organization with incredible passion and vision.
Real Estate Cashflow Conference: https://www.jayconner.com/learnrealestate/
Free Webinar: http://bit.ly/jaymoneypodcast
Jay Conner is a proven real estate investment leader. Without using his own money or credit, Jay maximizes creative methods to buy and sell properties with profits averaging $64,000 per deal.
What is Real Estate Investing? Live Cashflow Conference
The Conner Marketing Group Inc.
P.O. Box 1276, Morehead City, NC USA 28557
P 252-808-2927
F 252-240-2504
Channel
https://www.youtube.com/channel/UCZfl6O7pRhyX5R-rRuSnK6w
https://www.youtube.com/c/RealEstateInvestingWithJayConner
RSS Feed
http://realestateinvestingdeals.mypodcastworld.com/rss2.xml
Google Play
https://play.google.com/music/listen#/ps/Ihrzsai7jo7awj2e7nhhwfsv47y
iTunes:
https://itunes.apple.com/ca/podcast/real-estate-investing-minus-bank-flipping-houses-foreclosure/id1377723034
Watch on ROKU:
https://my.roku.com/add/realestateinvesting
Watch on Amazon Prime:
https://www.amazon.com/How-Locate-Real-Estate-Deals/dp/B07M9WNZR6/ref=sr_1_3
About Jay Conner
Channel
https://www.youtube.com/channel/UCZfl6O7pRhyX5R-rRuSnK6w

https://www.youtube.com/c/RealEstateInvestingWithJayConner



RSS Feed

http://realestateinvestingdeals.mypodcastworld.com/rss2.xml



Google Play

https://play.google.com/music/listen#/ps/Ihrzsai7jo7awj2e7nhhwfsv47y



iTunes:

https://itunes.apple.com/ca/podcast/real-estate-investing-minus-bank-flipping-houses-foreclosure/id1377723034




Real estate investing with the pros
Click here to see the full author's profile
Recent Episodes
Discover the BRRRR Method with Corey Reyment and Jay Conner, The Private Money Authority
Casey Ames on Real Estate Investing With Jay Conner, The Private Money Authority
Ascend Your Success In Real Estate with Alex Pardo & Jay Conner, The Private Money Authority
Tax-Defaulted Properties with Jay Drexel & Jay Conner, The Private Money Authority
Finding Purpose And Success with Brett Snodgrass & Jay Conner, The Private Money Authority
Notes & Wholesale Deals With Nick Legamaro & Jay Conner, The Private Money Authority
100+ deals plus 40+ rentals - Get Inspired with JP Kilduff - Real Estate Investing With Jay Conner
Brad Smotherman and 550 deals
Era of Foreclosures: What Real Estate Investors Should Be Focusing On
Mitch Stephen's 1000 Doors, Real Estate Investing With Jay Conner, The Private Money Authority