Real Estate Investing Show for Professional Investors
Finding Deals In The Senior Living World Of Real Estate
Jay Conner
May 05 2021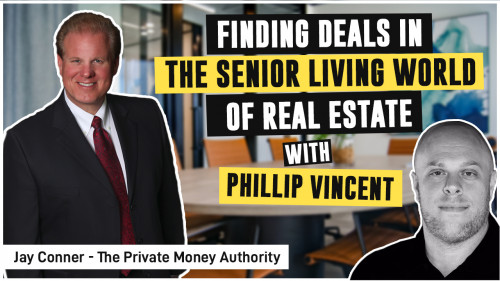 One popular question on the real estate business is how do you find deals? In this case, how do you find older people that are willing and ready to sell their houses?
In this episode, Jay's special guest, Philip Vincent the Co-Founder of Mom's House will teach you the right way to do it.
Can you really make a real estate business using the market for senior living?
While Phillip started as a home builder and developer, he quickly transitioned to buying houses from seniors.
It's his entrepreneurial spirit and commitment to make the home selling process easier for older people and their families.
Click on this link to watch the complete video: https://youtu.be/yQg_7DHJwtg
"Massive Tsunami in Senior Living Real Estate Coming Fast! - with Jay Conner & Phillip Vincent"
Real Estate Cashflow Conference: https://www.jayconner.com/learnrealestate/
Free Webinar: http://bit.ly/jaymoneypodcast
Jay Conner is a proven real estate investment leader. Without using his own money or credit, Jay maximizes creative methods to buy and sell properties with profits averaging $64,000 per deal.
What is Real Estate Investing? Live Cashflow Conference
The Conner Marketing Group Inc.
P.O. Box 1276, Morehead City, NC USA 28557
P 252-808-2927
F 252-240-2504
Channel
https://www.youtube.com/channel/UCZfl6O7pRhyX5R-rRuSnK6w
https://www.youtube.com/c/RealEstateInvestingWithJayConner
RSS Feed
http://realestateinvestingdeals.mypodcastworld.com/rss2.xml
Google Play
https://play.google.com/music/listen#/ps/Ihrzsai7jo7awj2e7nhhwfsv47y
iTunes:
https://itunes.apple.com/ca/podcast/real-estate-investing-minus-bank-flipping-houses-foreclosure/id1377723034
Watch on ROKU:
https://my.roku.com/add/realestateinvesting
Watch on Amazon Prime:
https://www.amazon.com/How-Locate-Real-Estate-Deals/dp/B07M9WNZR6/ref=sr_1_3
About Jay Conner
Channel
https://www.youtube.com/channel/UCZfl6O7pRhyX5R-rRuSnK6w

https://www.youtube.com/c/RealEstateInvestingWithJayConner



RSS Feed

http://realestateinvestingdeals.mypodcastworld.com/rss2.xml



Google Play

https://play.google.com/music/listen#/ps/Ihrzsai7jo7awj2e7nhhwfsv47y



iTunes:

https://itunes.apple.com/ca/podcast/real-estate-investing-minus-bank-flipping-houses-foreclosure/id1377723034




Real estate investing with the pros
Click here to see the full author's profile
Recent Episodes
Discover the BRRRR Method with Corey Reyment and Jay Conner, The Private Money Authority
Casey Ames on Real Estate Investing With Jay Conner, The Private Money Authority
Ascend Your Success In Real Estate with Alex Pardo & Jay Conner, The Private Money Authority
Tax-Defaulted Properties with Jay Drexel & Jay Conner, The Private Money Authority
Finding Purpose And Success with Brett Snodgrass & Jay Conner, The Private Money Authority
Notes & Wholesale Deals With Nick Legamaro & Jay Conner, The Private Money Authority
100+ deals plus 40+ rentals - Get Inspired with JP Kilduff - Real Estate Investing With Jay Conner
Brad Smotherman and 550 deals
Era of Foreclosures: What Real Estate Investors Should Be Focusing On
Mitch Stephen's 1000 Doors, Real Estate Investing With Jay Conner, The Private Money Authority