Real Estate Investing Show for Professional Investors
Mitch Stephen's 1000 Doors, Real Estate Investing With Jay Conner, The Private Money Authority
Jay Conner
May 10 2021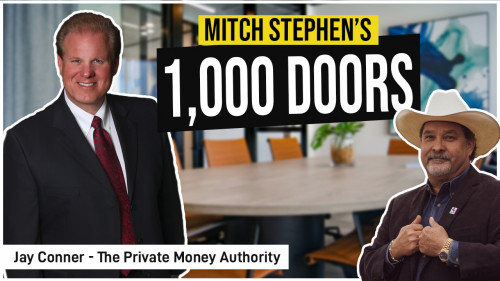 Mitch Stephen is the author of the book series MY LIFE & 1,000 HOUSES.... - His first book came out in 2008 and was Titled...
MY LIFE & 1,000 HOUSES: Failing Forward to Financial Freedom
It is an autobiographical story about how Mitch, as a young entrepreneur, morphed into a professional real estate investor with over a 1,000 house transactions to his credit.
In 2014 the second book was released...
MY LIFE & 1,000 HOUSES:2
00+ Ways Find Bargain Properties
Discover what Mitch's advice right now to a beginning investor based on the current market and economy is!
Timestamp:
0:01 - Get Ready To Be Plugged Into The Money
0:25 - Introduction
1:05 - Jay's New Book: "Where To Get The Money Now" - https://www.JayConner.com/Book
2:01 - Today's guest: Mitch Stephen
5:37 - Get Mitch Stephen's ebook here: https://www.1000Houses.com/enough
7:25 - How do you fill up your time?
9:14 - Mitch Stephen's real estate business
15:03 - What makes a good deal?
16:28 - How do a potential owner financed buyer find out about your deals?
22:15 - Get connected with Mitch Stephen: https://www.1000Houses.com
23:34 - Importance of Coach.
23:59 - Mitch Stephen's current deals.
25:40 - Favorite ways to find sellers.
27:00 - Consistent source of seller lead flow.
Real Estate Cashflow Conference: https://www.jayconner.com/learnrealestate/
Free Webinar: http://bit.ly/jaymoneypodcast
Jay Conner is a proven real estate investment leader. Without using his own money or credit, Jay maximizes creative methods to buy and sell properties with profits averaging $64,000 per deal.
What is Real Estate Investing? Live Cashflow Conference
The Conner Marketing Group Inc.
P.O. Box 1276, Morehead City, NC USA 28557
P 252-808-2927
F 252-240-2504
Channel
https://www.youtube.com/channel/UCZfl6O7pRhyX5R-rRuSnK6w
https://www.youtube.com/c/RealEstateInvestingWithJayConner
RSS Feed
http://realestateinvestingdeals.mypodcastworld.com/rss2.xml
Google Play
https://play.google.com/music/listen#/ps/Ihrzsai7jo7awj2e7nhhwfsv47y
iTunes:
https://itunes.apple.com/ca/podcast/real-estate-investing-minus-bank-flipping-houses-foreclosure/id1377723034
Watch on ROKU:
https://my.roku.com/add/realestateinvesting
Watch on Amazon Prime:
https://www.amazon.com/How-Locate-Real-Estate-Deals/dp/B07M9WNZR6/ref=sr_1_3
About Jay Conner
Channel
https://www.youtube.com/channel/UCZfl6O7pRhyX5R-rRuSnK6w

https://www.youtube.com/c/RealEstateInvestingWithJayConner



RSS Feed

http://realestateinvestingdeals.mypodcastworld.com/rss2.xml



Google Play

https://play.google.com/music/listen#/ps/Ihrzsai7jo7awj2e7nhhwfsv47y



iTunes:

https://itunes.apple.com/ca/podcast/real-estate-investing-minus-bank-flipping-houses-foreclosure/id1377723034




Real estate investing with the pros
Click here to see the full author's profile
Recent Episodes
The Reality of Real Estate Investing with Dave Seymour & Jay Conner, The Private Money Authority
Improving Business Relationships Through CRM with Danny Johnson & Jay Conner
Top 3 Aha Moments in Real Estate with Jay Conner & Chaffee-Thanh Nguyen
Become A 7-Figure Real Estate Investor with Nick Perry and Jay Conner, The Private Money Authority
Henry Washington, Helping Real Estate Investors Achieve Financial Freedom with Jay Conner
Social Media Marketing for Your Real Estate Business with Jay Conner & Josh Culler
Discover the BRRRR Method with Corey Reyment and Jay Conner, The Private Money Authority
Casey Ames on Real Estate Investing With Jay Conner, The Private Money Authority
Ascend Your Success In Real Estate with Alex Pardo & Jay Conner, The Private Money Authority
Tax-Defaulted Properties with Jay Drexel & Jay Conner, The Private Money Authority