Real Estate Investing Show for Professional Investors
Notes & Wholesale Deals With Nick Legamaro & Jay Conner, The Private Money Authority
Jay Conner
May 20 2021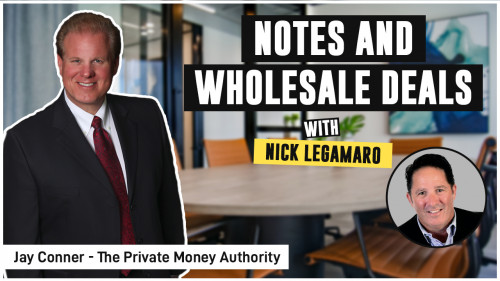 Nick Legamaro aka "Nick The Note Guy" is here in today's episode of Real Estate Investing with Jat Conner.
Nick has been investing in real estate since 2001. He has done just about everything there is to do in real estate. He even experienced the crash firsthand in 2008 and lived to talk about it!
He has bought, fixed, rented, sold, flipped, or been a lender on 1000+ properties. He has personally looked at over 10,000 deals. He has built companies for profit and recently sold one to a 100-year-old Federally Chartered BANK! He has done lots of "HEAVY LIFTING" but in moving forward I have made a HUGE shift!
This is where investing in Performing and NPL Real Estate Notes comes in. With his expertise and technology, he can "control" not "own" millions of dollars of assets nationwide. Now he is ready to show how you too can "Be the Bank" and invest in High Yield, Low Risk, Securitized Real Estate Mortgage Notes.
Private Money Academy Conference: https://www.jayconner.com/learnrealestate/
Have you read Jay's new book: Where to Get The Money Now?
It is available FREE (all you pay is the shipping and handling) at https://www.JayConner.com/Book
Timestamps:
0:01 - Introduction
0:30 - Jay's New Book: "Where To Get The Money Now" - https://www.JayConner.com/Book
1:57 - Today's guest: Nick Legamaro
4:33 - How Nick Legamaro entered the real estate business
11:01 - Creative Deal Structure
13:13 - Using Notes In Wholesale Deal
14:07 - Who needs Seller-Financing?
16:00 - Wrap Mortgage Strategy
18:24 - Doing a Deal On A Wrap
20:52 - Note Business is Not Difficult but Complex
22:33 - The beauty of Note Business
23:11 - Finding Buyer & Seller in Note Business
25:17 - Connect with Nick Legamaro - https://www.USANotePro.com
26:33 - Best piece of advice to a new real estate investor.
Real Estate Cashflow Conference: https://www.jayconner.com/learnrealestate/
Free Webinar: http://bit.ly/jaymoneypodcast
Jay Conner is a proven real estate investment leader. Without using his own money or credit, Jay maximizes creative methods to buy and sell properties with profits averaging $64,000 per deal.
What is Real Estate Investing? Live Cashflow Conference
The Conner Marketing Group Inc.
P.O. Box 1276, Morehead City, NC USA 28557
P 252-808-2927
F 252-240-2504
Channel
https://www.youtube.com/channel/UCZfl6O7pRhyX5R-rRuSnK6w
https://www.youtube.com/c/RealEstateInvestingWithJayConner
RSS Feed
http://realestateinvestingdeals.mypodcastworld.com/rss2.xml
Google Play
https://play.google.com/music/listen#/ps/Ihrzsai7jo7awj2e7nhhwfsv47y
iTunes:
https://itunes.apple.com/ca/podcast/real-estate-investing-minus-bank-flipping-houses-foreclosure/id1377723034
Watch on ROKU:
https://my.roku.com/add/realestateinvesting
Watch on Amazon Prime:
https://www.amazon.com/How-Locate-Real-Estate-Deals/dp/B07M9WNZR6/ref=sr_1_3
About Jay Conner
Channel
https://www.youtube.com/channel/UCZfl6O7pRhyX5R-rRuSnK6w

https://www.youtube.com/c/RealEstateInvestingWithJayConner



RSS Feed

http://realestateinvestingdeals.mypodcastworld.com/rss2.xml



Google Play

https://play.google.com/music/listen#/ps/Ihrzsai7jo7awj2e7nhhwfsv47y



iTunes:

https://itunes.apple.com/ca/podcast/real-estate-investing-minus-bank-flipping-houses-foreclosure/id1377723034




Real estate investing with the pros
Click here to see the full author's profile
Recent Episodes
The Reality of Real Estate Investing with Dave Seymour & Jay Conner, The Private Money Authority
Improving Business Relationships Through CRM with Danny Johnson & Jay Conner
Top 3 Aha Moments in Real Estate with Jay Conner & Chaffee-Thanh Nguyen
Become A 7-Figure Real Estate Investor with Nick Perry and Jay Conner, The Private Money Authority
Henry Washington, Helping Real Estate Investors Achieve Financial Freedom with Jay Conner
Social Media Marketing for Your Real Estate Business with Jay Conner & Josh Culler
Discover the BRRRR Method with Corey Reyment and Jay Conner, The Private Money Authority
Casey Ames on Real Estate Investing With Jay Conner, The Private Money Authority
Ascend Your Success In Real Estate with Alex Pardo & Jay Conner, The Private Money Authority
Tax-Defaulted Properties with Jay Drexel & Jay Conner, The Private Money Authority