Real Estate Investing Show for Professional Investors
Ascend Your Success In Real Estate with Alex Pardo & Jay Conner, The Private Money Authority
Jay Conner
Jun 03 2021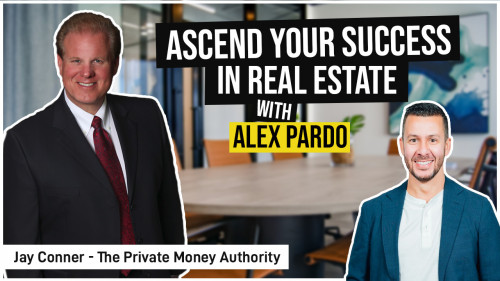 Alex Pardo is the Founder of Creative RE-Solutions, a home buying company based out of South Florida. The company's purpose is to help people by providing solutions to unwanted properties, and its core values are:
1) Having Integrity
2) Having a Positive Attitude
3) Going Above & Beyond
4) Being Solutions Oriented
5) Being Efficiently Productive
In addition, Alex is the Co-Founder of ASCEND, a high-level mastermind and coaching community for Entrepreneurs that want to experience a better life and business.
Alex is also the Co-Founder of Holiday Mastermind, which was created to unite entrepreneurs that are passionate about go-giving, enhancing their businesses, all while doing so in a world-class setting.
Alex is the host of the Flip Empire Show, a top-rated podcast designed to help anyone achieve financial freedom through real estate investing. The show was launched in 2016, features industry thought leaders, and cover a variety of topics like entrepreneurship, real estate investing, marketing, team building, systems and automation, personal development, vision building, and more.
Through his businesses, masterminds, coaching, and podcast, Alex is able to fulfill his purpose of helping others achieve Freedom, while passionately living his vision with his family.
Private Money Academy Conference: https://www.jayconner.com/learnrealestate/
Have you read Jay's new book: Where to Get The Money Now?
It is available FREE (all you pay is the shipping and handling) at https://www.JayConner.com/Book
Timestamps:
0:01 - Introduction
0:46 - Jay's New Book: "Where To Get The Money Now" - https://www.JayConner.com/Book
2:00 - Today's guest: Alex Pardo
4:22 - The Flip Empire Show (Podcast): https://www.FlipEmpire.com/podcast
5:10 - What makes you give up your wholesaling business?
9:18 - Describe how you felt when you made that decision to make a change.
10:44 - What is giving you a sense of fulfillment now?
13:51 - Why is it important to have a vision? How do you figure out your vision?
18:02 - Alex Pardo's Vision in Life
21:26 - Do you agree that it's more challenging to find deals in today's real estate market?
26:49 - Alex Pardo's best advice.
27:58 - Connect with Alex Pardo: https://www.AscendYourSuccess.com
Real Estate Cashflow Conference: https://www.jayconner.com/learnrealestate/
Free Webinar: http://bit.ly/jaymoneypodcast
Jay Conner is a proven real estate investment leader. Without using his own money or credit, Jay maximizes creative methods to buy and sell properties with profits averaging $64,000 per deal.
What is Real Estate Investing? Live Cashflow Conference
The Conner Marketing Group Inc.
P.O. Box 1276, Morehead City, NC USA 28557
P 252-808-2927
F 252-240-2504
Channel
https://www.youtube.com/channel/UCZfl6O7pRhyX5R-rRuSnK6w
https://www.youtube.com/c/RealEstateInvestingWithJayConner
RSS Feed
http://realestateinvestingdeals.mypodcastworld.com/rss2.xml
Google Play
https://play.google.com/music/listen#/ps/Ihrzsai7jo7awj2e7nhhwfsv47y
iTunes:
https://itunes.apple.com/ca/podcast/real-estate-investing-minus-bank-flipping-houses-foreclosure/id1377723034
Watch on ROKU:
https://my.roku.com/add/realestateinvesting
Watch on Amazon Prime:
https://www.amazon.com/How-Locate-Real-Estate-Deals/dp/B07M9WNZR6/ref=sr_1_3
About Jay Conner
Channel
https://www.youtube.com/channel/UCZfl6O7pRhyX5R-rRuSnK6w

https://www.youtube.com/c/RealEstateInvestingWithJayConner



RSS Feed

http://realestateinvestingdeals.mypodcastworld.com/rss2.xml



Google Play

https://play.google.com/music/listen#/ps/Ihrzsai7jo7awj2e7nhhwfsv47y



iTunes:

https://itunes.apple.com/ca/podcast/real-estate-investing-minus-bank-flipping-houses-foreclosure/id1377723034




Real estate investing with the pros
Click here to see the full author's profile
Recent Episodes
Nick Perry's Greatest Lesson Learned In Real Estate | Jay Conner, The Private Money Authority
Smart Marketing For Your Real Estate Business With Nick Perry & Jay Conner
Strategies In Building Real Estate Buyer's Lists With Nick Perry & Jay Conner
How Nick Perry Manages Rehabs & Repairs On A Property |Jay Conner, The Private Money Authority
How To Buy Houses With No Money Down - Free Coaching Friday
What Makes "Want To Sell Now" Different From Other Real Estate Organizations
Wholesaling & Novation Deal In Real Estate With Nick Perry & Jay Conner, The Private Money Authority
Why Nick Perry Entered The Real Estate Business | Jay Conner, The Private Money Authority
What You Read, Tells Who You Are | Jay Conner, The Private Money Authority & Henry Washington
Henry Washington's Greatest Lesson Learned In Real Estate | Jay Conner