Real Estate Investing Show for Professional Investors
Casey Ames on Real Estate Investing With Jay Conner, The Private Money Authority
Jay Conner
Jun 09 2021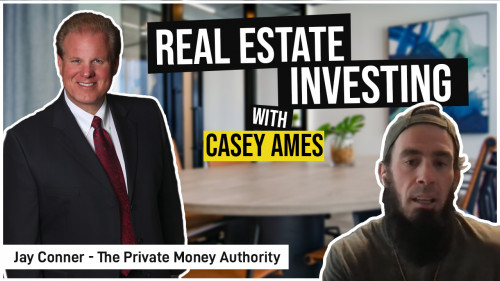 Casey Ames has a strong heart for the Lord, a luxury Home builder, multi-family Developer, SFH developer. He runs a large wholesale outfit averaging over 100 per year. A mentor and has been in the Real Estate business for 5 years.
Taylor Jene Homes builds high-quality homes and renovates older homes with care and a spirit of revival. No matter if starting from bare land or existing structure, President and founder Casey Ames ponders possibilities, develops and embraces a vision, and delivers excellence with quality and creative design.
Constantly improving on processes along with the use of technology and systems, Taylor Jene Homes empowers its crews to execute plans with clarity. Add in the singular focus of subcontractors and trades, city and county officials, professional engineers, and others to do what they do best within the project plan, a well-orchestrated collaboration results in remarkable home and new development creations.
Private Money Academy Conference: https://www.jayconner.com/learnrealestate/
Have you read Jay's new book: Where to Get The Money Now?
It is available FREE (all you pay is the shipping and handling) at https://www.JayConner.com/Book
Timestamps:
0:01 - Introduction
0:53 - Jay's New Book: "Where To Get The Money Now" - https://www.JayConner.com/Book
1:42 - Today's guest: Casey Ames - https://www.TaylorJeneHomes,com
3:28 - Casey Ames's story in real estate.
6:45 - What does your team look like in your wholesaling business?
8:40 - Systems Casey Ames used to smoothly runs his real estate business.
10:54 - What is the average assignment fees in your wholesaling business?
13:17 - Do you invest outside your area?
14:08 - Do you agree that it's more challenging to find motivated sellers now?
14:58 - What's your best way in finding deals?
18:44 - How do you find motivated sellers that are owners of luxury homes?
23:15 - Casey Ames's negotiation technique to close a deal.
26:44 - Casey Ames's best advice.
Real Estate Cashflow Conference: https://www.jayconner.com/learnrealestate/
Free Webinar: http://bit.ly/jaymoneypodcast
Jay Conner is a proven real estate investment leader. Without using his own money or credit, Jay maximizes creative methods to buy and sell properties with profits averaging $64,000 per deal.
What is Real Estate Investing? Live Cashflow Conference
The Conner Marketing Group Inc.
P.O. Box 1276, Morehead City, NC USA 28557
P 252-808-2927
F 252-240-2504
Channel
https://www.youtube.com/channel/UCZfl6O7pRhyX5R-rRuSnK6w
https://www.youtube.com/c/RealEstateInvestingWithJayConner
RSS Feed
http://realestateinvestingdeals.mypodcastworld.com/rss2.xml
Google Play
https://play.google.com/music/listen#/ps/Ihrzsai7jo7awj2e7nhhwfsv47y
iTunes:
https://itunes.apple.com/ca/podcast/real-estate-investing-minus-bank-flipping-houses-foreclosure/id1377723034
Watch on ROKU:
https://my.roku.com/add/realestateinvesting
Watch on Amazon Prime:
https://www.amazon.com/How-Locate-Real-Estate-Deals/dp/B07M9WNZR6/ref=sr_1_3
About Jay Conner
Channel
https://www.youtube.com/channel/UCZfl6O7pRhyX5R-rRuSnK6w

https://www.youtube.com/c/RealEstateInvestingWithJayConner



RSS Feed

http://realestateinvestingdeals.mypodcastworld.com/rss2.xml



Google Play

https://play.google.com/music/listen#/ps/Ihrzsai7jo7awj2e7nhhwfsv47y



iTunes:

https://itunes.apple.com/ca/podcast/real-estate-investing-minus-bank-flipping-houses-foreclosure/id1377723034




Real estate investing with the pros
Click here to see the full author's profile
Recent Episodes
Nick Perry's Greatest Lesson Learned In Real Estate | Jay Conner, The Private Money Authority
Smart Marketing For Your Real Estate Business With Nick Perry & Jay Conner
Strategies In Building Real Estate Buyer's Lists With Nick Perry & Jay Conner
How Nick Perry Manages Rehabs & Repairs On A Property |Jay Conner, The Private Money Authority
How To Buy Houses With No Money Down - Free Coaching Friday
What Makes "Want To Sell Now" Different From Other Real Estate Organizations
Wholesaling & Novation Deal In Real Estate With Nick Perry & Jay Conner, The Private Money Authority
Why Nick Perry Entered The Real Estate Business | Jay Conner, The Private Money Authority
What You Read, Tells Who You Are | Jay Conner, The Private Money Authority & Henry Washington
Henry Washington's Greatest Lesson Learned In Real Estate | Jay Conner