Real Estate Investing Show for Professional Investors
Top 3 Aha Moments in Real Estate with Jay Conner & Chaffee-Thanh Nguyen
Jay Conner
Jul 13 2021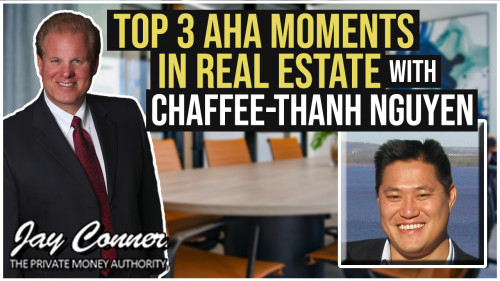 Today, Jay Conner was joined by his good friend Chaffee-Thanh Nguyen. They talked about some of the "Aha! Moments" in the real estate business.
In addition, they also conversed about "Private Money".
What is Private Money? How and where you can get private money to fund your deals.
All these and more in this episode of Real Estate Investing with Jay Conner.
Chaffee-Thanh Nguyen is an International Speaker, #1 Best Selling Author, and Business and Success Coach.
He holds a Bachelor of Science in Industrial Engineering from the University of Illinois, Urbana-Champaign.
After college, he worked in Corporate America for over 11 years as an Engineer and Senior IT Business Analyst.
He was a Certified Project Management Professional with the internationally recognized Project Management Institute for 6 years.
Using his corporate experience, he went on to start multiple businesses starting in 2002, including Real Estate Investing where he has invested in multiple states across the nation.
His passion, helping others achieve their highest potential in both business and in life.
As a refugee himself, Chaffee-Thanh Nguyen is committed to helping others and giving back. He is very active within his community serving within the Jaycees as a 10th Degree Jaycee, US Jaycee Senator #70583, and a JCI Certified National Trainer.
Timestamps:
0:01 - Get Ready To Be Plugged Into The Money
0:39 - Today's guest: Chaffee-Thanh Nguyen
1:34 - Jay's New Book: "Where To Get The Money Now" -https://www.JayConner.com/Book
2:13 - Chaffee, one of the editors of Jay's new book talks about why you need to get this book now!
3:19 - Aha! Moments in Real Estate - Private Money Academy Conference
4:43 - Who is Chaffee-Thanh Nguyen?
8:42 - 1st Aha! Moment: Substituting the collateral allows the lender to continue earning interest on a loan for a longer period of time, should the original property sell in less than 6 months.
10:19 - What is Private Money? Who is a Private Lender?
15:43 - 2nd Aha! Moment: Sellers do not know what they will accept until you make the offer.
23:10 - How can you buy a property using Subject-to existing note strategy?
26:04 - Final Aha moment for today: You can make big money in the real estate business in a very small market.
31:49 - Chaffee's parting comments: Go out there, do not be afraid to make offers!
Private Money Academy Conference: https://www.jayconner.com/learnrealestate/
Have you read Jay's new book: Where to Get The Money Now?
It is available FREE (all you pay is the shipping and handling) at https://www.JayConner.com/Book
Real Estate Cashflow Conference: https://www.jayconner.com/learnrealestate/
Free Webinar: http://bit.ly/jaymoneypodcast
Jay Conner is a proven real estate investment leader. Without using his own money or credit, Jay maximizes creative methods to buy and sell properties with profits averaging $64,000 per deal.
What is Real Estate Investing? Live Cashflow Conference
The Conner Marketing Group Inc.
P.O. Box 1276, Morehead City, NC USA 28557
P 252-808-2927
F 252-240-2504
Channel
https://www.youtube.com/channel/UCZfl6O7pRhyX5R-rRuSnK6w
https://www.youtube.com/c/RealEstateInvestingWithJayConner
RSS Feed
http://realestateinvestingdeals.mypodcastworld.com/rss2.xml
Google Play
https://play.google.com/music/listen#/ps/Ihrzsai7jo7awj2e7nhhwfsv47y
iTunes:
https://itunes.apple.com/ca/podcast/real-estate-investing-minus-bank-flipping-houses-foreclosure/id1377723034
Watch on ROKU:
https://my.roku.com/add/realestateinvesting
Watch on Amazon Prime:
https://www.amazon.com/How-Locate-Real-Estate-Deals/dp/B07M9WNZR6/ref=sr_1_3
About Jay Conner
Channel
https://www.youtube.com/channel/UCZfl6O7pRhyX5R-rRuSnK6w

https://www.youtube.com/c/RealEstateInvestingWithJayConner



RSS Feed

http://realestateinvestingdeals.mypodcastworld.com/rss2.xml



Google Play

https://play.google.com/music/listen#/ps/Ihrzsai7jo7awj2e7nhhwfsv47y



iTunes:

https://itunes.apple.com/ca/podcast/real-estate-investing-minus-bank-flipping-houses-foreclosure/id1377723034




Real estate investing with the pros
Click here to see the full author's profile
Recent Episodes
Nick Perry's Greatest Lesson Learned In Real Estate | Jay Conner, The Private Money Authority
Smart Marketing For Your Real Estate Business With Nick Perry & Jay Conner
Strategies In Building Real Estate Buyer's Lists With Nick Perry & Jay Conner
How Nick Perry Manages Rehabs & Repairs On A Property |Jay Conner, The Private Money Authority
How To Buy Houses With No Money Down - Free Coaching Friday
What Makes "Want To Sell Now" Different From Other Real Estate Organizations
Wholesaling & Novation Deal In Real Estate With Nick Perry & Jay Conner, The Private Money Authority
Why Nick Perry Entered The Real Estate Business | Jay Conner, The Private Money Authority
What You Read, Tells Who You Are | Jay Conner, The Private Money Authority & Henry Washington
Henry Washington's Greatest Lesson Learned In Real Estate | Jay Conner