Real Estate Investing Show for Professional Investors
The Reality of Real Estate Investing with Dave Seymour & Jay Conner, The Private Money Authority
Jay Conner
Jul 22 2021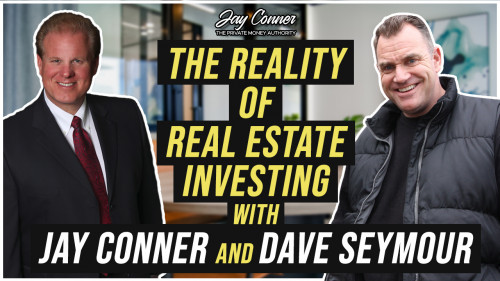 Today, Jay Conner, The Private Money Authority has a very special guest, Dave Seymour.
They discuss the reality of real estate investing. The nit and grit of the business. The struggles and lessons that need to be learned in order to achieve success in the real estate business.
Plus, Jay and Dave also talk about the best way how to grow capital!
All these and more in Real Estate Investing with Jay Conner.
After 16 years as a firefighter and paramedic, Dave Seymour launched his career, rapidly becoming one of the Nation's top real estate investors. Within his first few years, Dave had transacted millions of dollars of real estate and had become one of the Nation's leading experts in both residential and commercial transactions.
His unabridged passion for business and real estate put him on the radar of the A&E Television network as well as multiple television organizations like CBS, ABC, CNBC, Fox News, and CNN. New York Times reported that Dave Seymour's series "Flipping Boston" posted the highest ratings ever for the A &E Network at the time of airing.
Dave has been sought after as a "tell like it is" mentor and motivator in the real estate world with a track record of unmatched success everywhere he reaches. Dave is well-known for doing business alongside investors on their very first real estate deal as well as guided some of the largest investment firms in the nation through complex transactions.
Timestamps:
0:01 - Get Ready To Be Plugged Into The Money
1:06 - Jay's New Book: "Where To Get The Money Now" -https://www.JayConner.com/Book
2:16 - Today's guest: Dave Seymour
4:27 - The Secret Origin of Dave Seymour
8:10 - Dave talks about when he started his real estate business.
10:10 - Early struggles and best lesson learned by Dave Seymour.
14:18 - What niche in the real estate business that you focused on?
16:49 - The best way to grow capital.
21:07 - Dave talks about his reality tv show "Flipping Boston"
24:06 - What does the law of reciprocity means to Dave Seymour?
26:54 - How does the law of reciprocity apply in real estate investing?
28:22 - Books recommended by Dave
29:04 - Dave's parting comments: " You don't have to know everything. Educate don't speculate"
30:39 - Connect with Dave Seymour - https://www.FreedomVenture.com
Private Money Academy Conference: https://www.jayconner.com/learnrealestate/
Take Lou's Course:
https://www.udemy.com/course/realtors-and-real-estate-investing/?referralCode=305A2A5DB2A2C4543B7F
Lou Brown has been buying, selling and holding property for 40 years and you are about to discover what a lot of so called gurus are missing.
* How to buy all the property you want without ever visiting a single bank or needing to qualify for a loan…
* How to have a buyer or renter before you even buy property…
* How to have them already pay you money before you sold them anything…
These are exactly the kinds of deals he does day in and day out. Most 'investors' are getting it wrong. It's not about the property, it's about the buyer. Buying right and buying cheap is what you'll do after you have the buyer.
Media Sites:
YouTube: https://www.youtube.com/user/StreetSmartInvestor
Podcast: http://Streetsmart.mypodcastworld.com/
Facebook: https://www.facebook.com/StreetSmartInvestor/
Web Site: https://millionairejumpstart.com/ and https://streetsmartinvestor.com/
Real Estate investors in all fifty states across Canada and fifteen foreign countries including as far away as Australia and New Zealand, have long regarded the training, systems and forms created by Louis Brown as the best in the industry, Quoted as an expert by many publications and authors, "Lou" draws from a wide and varied background as a real estate investor having been buying property since 1976.
He's invested in single-family homes, apartments, hotels, developed subdivisions and built and renovated homes and apartments. Each of these experiences has given him a proving ground for the most cutting-edge concepts in real estate today. He's widely known as a creative financing genius with his deal structuring concepts.
Being a teacher at heart he enjoys sharing his discoveries with others. He has served the industry in many volunteer positions such as past President and designated lifetime member of the Georgia Real Estate Investors Association, the world's largest real estate investor group.
He is also founding President of the National Real Estate Investors Association, which serves as the umbrella association of local investor groups.
About Jay Conner
Channel
https://www.youtube.com/channel/UCZfl6O7pRhyX5R-rRuSnK6w

https://www.youtube.com/c/RealEstateInvestingWithJayConner



RSS Feed

http://realestateinvestingdeals.mypodcastworld.com/rss2.xml



Google Play

https://play.google.com/music/listen#/ps/Ihrzsai7jo7awj2e7nhhwfsv47y



iTunes:

https://itunes.apple.com/ca/podcast/real-estate-investing-minus-bank-flipping-houses-foreclosure/id1377723034




Real estate investing with the pros
Click here to see the full author's profile
Recent Episodes
Nick Perry's Greatest Lesson Learned In Real Estate | Jay Conner, The Private Money Authority
Smart Marketing For Your Real Estate Business With Nick Perry & Jay Conner
Strategies In Building Real Estate Buyer's Lists With Nick Perry & Jay Conner
How Nick Perry Manages Rehabs & Repairs On A Property |Jay Conner, The Private Money Authority
How To Buy Houses With No Money Down - Free Coaching Friday
What Makes "Want To Sell Now" Different From Other Real Estate Organizations
Wholesaling & Novation Deal In Real Estate With Nick Perry & Jay Conner, The Private Money Authority
Why Nick Perry Entered The Real Estate Business | Jay Conner, The Private Money Authority
What You Read, Tells Who You Are | Jay Conner, The Private Money Authority & Henry Washington
Henry Washington's Greatest Lesson Learned In Real Estate | Jay Conner